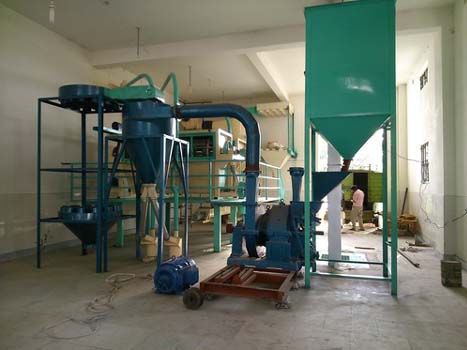 Spice Processing Plant
Spice processing plants have been excellently designed and fabricated which makes it highly useful and effective in grinding raw spices to make blended spices which is used for cooking purposes. We are not only manufacturing but also are supplying and exporting these top grade automatic spices processing plants. Spices are an integral part of the Indian diet since centuries and they are used in vegetarian and non-vegetarian food and snack preparations. They help enhance the taste of food. Some specialty spices are grown at specific locations but turmeric, chilly etc. are grown in many parts of the country and their consumption is also very high as compared to some other spices.

Thus, they are fast moving items, consumed in all households and therefore the market is very scattered. Manufacturing Process for spices To start with, ungrounded spices are cleaned mechanical to remove impurities and then washed. After drying them, they are pulverized in a grinder to convert them in powder form. Turmeric being solid by nature, it is taken to disintegrator and then pulverized or with help of modern screen less impact pulverizer obtain turmeric powder in single grinding.. Then spices in powder form are passed through sieves to obtain uniform mesh size. Finally, packing is done in polythene bags and bags are sealed. Process loss is in the range of 5% to 7%.

The Process Flow Chart is as under:
Cleaning
→
Roasting
→
Grinding
→
Grading
→
Blending
→
Packing

After cleaning the spices whole spices like cumin, coriander etc.. must be roasted with salt or other ingredients for increasing fragrance, aroma and self life. For that jas enterprises has developed rotary spice roaster machine which is operated by electric for motion and gas for heat. please contact to us for more details.

Capacities available: From 0.5 to 5 TPD (TONS PER DAY)
Power consumption: 50 H.P to 150 H.P.